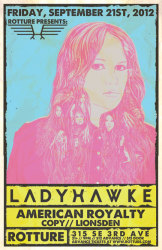 Rotture Presents:
LADYHAWKE
American Royalty
Copy • Lionsden
September 21, 2012 9:00 pm
- 2:00 am
Add to Cal
//=$other_events?>
Time: 9:00pm Day: Friday Ages: 21+ without parent or guardian
This Event Has Ended
Do you like dancing? If your answer is yes, keep reading. Still with me? Great. Now, do you think that dancing to pop music hits from the 80's and 90's is a good time on the Friday night? Yes?
Then let me tell you about the fiercely talented, multi-instumentalist Ladyhawke and her extremely danceable, hook-filled songs. 
Ladyhawke is a New Zealand-born ingenue who is fighting a one-woman battle to bring back the best of the glory days of 80's and 90's pop rock for your auditory enjoyment. That her two albums and stage presence have seen her compared to America musical giants Debbie Harry, Joan Jett and Stevie Nicks shows that, so far, she's winning the war.
To me she's much more melodic Metric, pure rock music filtered through a soft-focus lense and fresh from watching the Labyrinth for two weeks straight. Watching her music videos makes me miss my Lisa Frank Trapper Keeper in a good way. Take a look at her hit single "My Delirium"http://youtu.be/3ZT4akpw2Es or "Magic" http://youtu.be/9fIDmPFd95o to get a sense of what I'm talking about.
More popular in the international music scene, and particularly in Britain, Australia and New Zealand, than here in the States, we're lucky to have Ladyhawke in Portland. Ladyhawke is doing a whirlwind September tour, and this is your last chance to catch her before she leaves for California before heading back across the pond for her European tour.
Those of you who flock to 80's dance nights around town should be sure not to miss show, and to give Ladyhawke big ups for bring her particular, polished brand of weird, sexy pop to our weird city.
Ladyhawke
Ladyhawke is the stage name of the
singer-songwriter
and multi-instrumentalist Phillipa 'Pip' Brown (born in 13 July 1979 in Masterton, New Zealand). She can play electric, bass and acoustic guitars, synthesizers and drums. Pip tours with a live band, but in studio she plays all the instruments. Influenced by
80s
music, her musical style blends
new wave
,
indie rock
and
electropop
. She is…